Macro- and Micro-nutrient for Athletes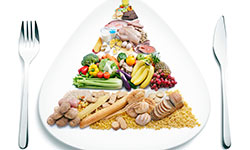 Submit Abstract
Register Now
There are three essential macronutrients that people are probably already somewhat familiar with, at least by name. These macronutrients are Carbohydrate, Protein, and Fat and they all serve different but essential purposes and Sportsmen need to make sure they consume the right amount of each in their diet. Almost everything you eat will contain a combination of the three macronutrients.
Carbohydrates: Carbohydrates are the most commonly maligned macronutrient when it comes to weight loss. While your body can do without Carbohydrates in your diet, you need them for your body to function at an optimal level and there is no need to remove them from your diet to successfully lose weight. There is nothing inherent about Carbohydrates that will make you gain or lose weight.
Protein: Protein helps repair and maintain body tissues that naturally break down in daily life-style. Studies have shown that high-protein diets are better for fat loss and building muscle mass and help in making you feel fuller for longer. In fact you can expect these positive side-effects of a high Protein diet even while maintaining your Carbohydrate and Fat intake – which should come as no surprise to you by now. Fortunately, most adults in the United States get enough protein to meet their daily needs.
Fats: Much like Carbohydrates; Fat is a misunderstood macronutrient. Many people incorrectly believe that eating fat will make you fat, which is simply not true. The only thing that will make you fat is consuming more calories than you burn. Fat is not only essential for growth and development but Fat have been scientifically proven to help your body better absorb nutrients and vitamins from foods you eat. Fat also makes food taste better and makes you feel fuller for longer.
Related Conference of
Macro- and Micro-nutrient for Athletes
October 02-03, 2017
London, UK
April 16-17, 2018
Dubai, UAE
July 19-20, 2018
London, UK
May 09 2015
Sports Nutrition Conference-2016
London UK
May 11-May 14 2016
CPSDA-2016
Kansas City Missouri
June 13-June 14 2016
ICSMES-2016
Venice Italy
June 11-June 12 2016
Sports Performance Nutrition-2016
Amsterdam The Netherlands
December 15-December 17 2015
Sports Exercise Nutrition-2016
Newcastle USA
July 05 July 07 2016
Food Allergy Summit-2016
London UK
August 02 August 05 2016
SimGHOSTS-2016
Peoria USA
August 27 September 03 2016
Orthopedics and Sports Medicine-2016
Seattle USA
September 6 September 8 2016
European Hip Congress-2016
M nchen Germany
September 11 September 14 2016
Eurosens- 2016
Dijon France
Macro- and Micro-nutrient for Athletes
Conference Speakers
Recommended
Sessions
Related
Journals
Are you
interested

in